Get comfortable, dear reader, because this is gonna be a lengthy one. Why, you ask? Because I think I might be scrapping the whole Clinical Mental Health Counselor career path.
I know, I know. I sound flaky as fuck right now. But but but reasons! I have them!
Basically, as I've mentioned on this blog before, I've never been 100% comfortable with the idea of having to go to grad school in order to make my Bachelors worth anything. If I complete my B.A./B.S. and then decide that I want to go to grad school at that point, that's whole 'nother story. But with my advanced age as I start out my undergraduate degree, I've just not been in love with the idea of feeling obligated to continue on to grad school. But I was willing to suck it up and just accept it as part of my academic path.
Now I've known all along that in order to obtain my licensure as an LPC (Licensed Professional Counselor), after grad school I would have to work for a couple of years as an Intern (or LPC-I), under direct supervision. Cool, sure, no worries. Right?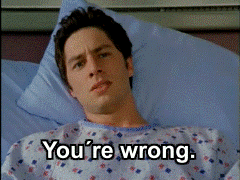 Yeah, about that.  What I learned this week is that supervision doesn't come free. Well, let me back up… It theoretically can if after grad school you land a job interning with a agency who provides your supervision hours as part of your employment with them. It's considered a perk of the job. However, those opportunities are fewer than you might think (especially in a small town like mine), and the ones that do exist are extremely competitive.
Because of these factors, most LPC-I's have to find supervision in private practice, and that costs money. Big money. Like, $100-200 per week. For real, ya'll. So let's use some of my blossoming fancy math skills, shall we? Based on the median weekly amount of $150 per week, the equation looks something like this:
Keep in mind this is AFTER grad school, so no more grants, no more loans, no financial aid at all. That cool 15 Grand+ would be coming completely out of my relatively empty, freshly-graduated pocket.
Can you actually hear my feet on the floor, backpedaling like a boss right now? (They're pretty big feet, so I wouldn't be surprised if you could.)
Which leads me to…
Yeah… Writing.  Oh, come on, don't look at me like that.  And really, I mean, if you're reading and enjoying this blog right now, that idea hopefully doesn't shock you. (Unless it does, and you're only reading this blog right now to mock me to your co-workers, which I acknowledge is entirely possible.) After all, I mean, I did get that perfect score on the writing section of my placement exams. So maaaaybe there's something to that worth exploring?
After some research, I've created a shortlist of schools that I would be interested in transferring to, all of which offer online Bachelor's degrees in English with a concentration in Writing:
I'm #sorrynotsorry, but that all sounds completely freakin' AWESOME to me.
So that's kinda where things stand now. Or not stand, since they're all up in the air. That's where things float now? Whatever. More importantly, how on Earth is it even possible that I'm 36 years old and still don't know what I want to be when I grow up?